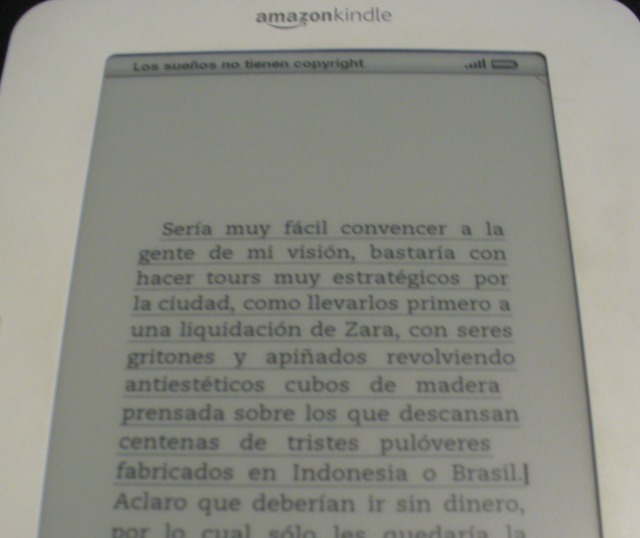 Una de las cosas que pensé que más iba a extrañar en el paso de los libros de papel a los electrónicos era la posibilidad de subrayar y hacer anotaciones en los márgenes, sobre todo cuando uno lee para el trabajo o la facultad. Ambas cosas pueden hacerse con un Kindle, aunque en el caso de escribir es algo engorroso porque el teclado del eReader de Amazon no está pensado para tipear a gusto.
Sin embargo, el subrayado es más fácil y práctico, con la suerte de mouse que trae el aparato. Una vez hecha la selección, podemos acceder a lo que marcamos en la carpeta "My Clippings". Allí aparecen los fragmentos y los datos del libro en cuestión. Una vez que sincronizamos, también podemos hallar esa info en https://kindle.amazon.com/your_highlights, que termina siendo una suerte de gran resumen de libros. Como alguna vez les conté, yo suelo copiar esos textos y pegarlos en un documento Word para tener una guía de lo que leí.
Lo interesante es que uno puede compartir qué marcó y compararlo con lo que otros usuarios también hicieron. En https://kindle.amazon.com/most_popular aparece el ranking de los pasajes más subrayados por los usuarios de Kindle. Es una selección variopinta que va desde "Orgullo y prejuicio" hasta libros de dietas y, claro, muchos best sellers.
Al día de hoy -calculo que la lista cambia periódicamente- éstas son las citas más subrayadas en un Kindle
1.
"It is a truth universally acknowledged, that a single man in possession of a good fortune, must be in want of a wife"
"Pride and Prejudice" – Jane Austen
2.
"The key to your happiness is to own your slippers, own who you are, own how you look, own your family, own the talents you have, and own the ones you don't. If you keep saying your slippers aren't yours, then you'll die searching, you'll die bitter, always feeling you were promised more. Not only our actions, but also our omissions, become our destiny."
"Cutting for Stone" – Abraham Verghese
3.
Those three things—autonomy, complexity, and a connection between effort and reward—are, most people agree, the three qualities that work has to have if it is to be satisfying.
"Outliers: The Story of Success" – Malcolm Gladwell
4.
"Rule #1: Avoid "white" carbohydrates (or anything that can be white). Rule #2: Eat the same few meals over and over again. Rule #3: Don't drink calories. Rule #4: Don't eat fruit. Rule #5: Take one day off per week and go nuts"
"The 4-Hour Body: An Uncommon Guide to Rapid Fat-Loss, Incredible Sex, and Becoming Superhuman" – Timothy Ferriss
5.
"Pride relates more to our opinion of ourselves, vanity to what we would have others think of us."
"Pride and Prejudice" – Jane Austen
6.
"For a long time, I've known that the key to getting started down the path of being remarkable in anything is to simply act with the intention of being remarkable"
"The 4-Hour Body: An Uncommon Guide to Rapid Fat-Loss, Incredible Sex, and Becoming Superhuman" – Timothy Ferriss
7.
"It takes ten times as long to put yourself back together as it does to fall apart."
"Mockingjay (The Final Book of The Hunger Games)" – Suzanne Collins
8.
"People think a soul mate is your perfect fit, and that's what everyone wants. But a true soul mate is a mirror, the person who shows you everything that's holding you back, the person who brings you to your own attention so you can change your life. A true soul mate is probably the most important person you'll ever meet, because they tear down your walls and smack you awake".
"Eat, Pray, Love: One Woman's Search for Everything Across Italy, India and Indonesia" – Elizabeth Gilbert
9.
"Happiness is the consequence of personal effort. You fight for it, strive for it, insist upon it, and sometimes even travel around the world looking for it. You have to participate relentlessly in the manifestations of your own blessings. And once you have achieved a state of happiness, you must never become lax about maintaining it, you must make a mighty effort to keep swimming upward into that happiness forever, to stay afloat on top of it. If you don't, you will leak away your innate contentment"
"Eat, Pray, Love: One Woman's Search for Everything Across Italy, India and Indonesia" – Elizabeth Gilbert
10.
"Because sometimes things happen to people and they're not equipped to deal with them"
"Catching Fire (The Second Book of the Hunger Games)" – Suzanne Collins
Como solía decir Jorge Luis, "Que otros se enorgullezcan por lo que han escrito, yo me enorgullezco por lo que he subrayado en mi Kindle"